Hundreds attend funeral for murdered Zoe Nelson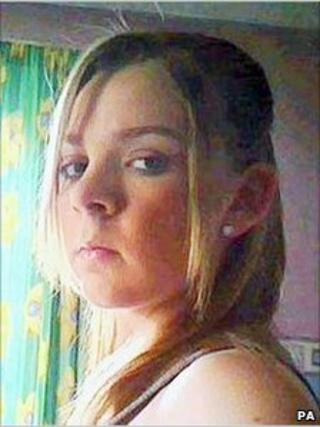 Hundreds of people have attended the funeral of Lanarkshire teenager Zoe Nelson, whose burned body was found in a field.
The service was held at Coltness Memorial Church, in her home town of Newmains, before Zoe was buried at Cambusnethan Cemetery, Wishaw.
Her body was found in a field near Branchalfield Drive, Wishaw, on 23 May.
Robert Bayne, 20, from Wishaw, was remanded in custody last month after being charged with her murder.
Zoe's mother, Marieann Nelson, and sisters, Ashley and Laurann, were among more than 200 mourners, as was her grandmother, Annette Nelson.
Rev Graham Raeburn, who led the service, said the number of people in the church showed what an impact Zoe had during her short life.
"As I look around today, it is very clear that Zoe Nelson touched the lives of so many people," he said.
"She was a typical teenager, just like so many of you gathered here. She was always happy and cheerful, always laughing and joking, always with a smile on her face.
"Zoe had a big heart, she always had time for young children and she would go out of her way to help support her friends if she was able."
Rev Raeburn said that Zoe, who would have turned 18 next month, was a bit of a tomboy, describing her as a "petrolhead" who loved fast cars and was also a keen Rangers supporter.
The former Clyde Valley High pupil had originally wanted to be a nursery nurse but changed her mind and went on to study panel beating at Motherwell College.
He told how Zoe never had a chance to meet her new nephew, born a few weeks after her death.
She had also wanted to wait until she was 18 to make contact with her biological father, which she never had the chance to do.
Zoe was seen leaving her Newmains home at 1700 BST on 22 May. She was later seen on CCTV footage in a local store at about 1730 BST.
Residents in Wishaw reported seeing a fire in woods known as Monkey Hill a few hours later.
Police launched a murder investigation after her body was discovered by a passer-by the following afternoon.