Music festival starts at airport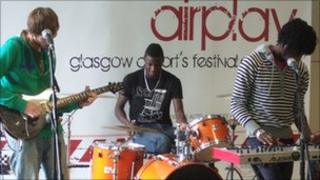 Bands and solo acts are competing for a £1,000 music prize by performing for travellers at Glasgow Airport.
The first six acts - from a shortlist of 24 - performed at the main terminal building on Thursday as part of the airport's "Airplay" sessions.
Travellers can then vote for their favourite act through a web page.
The competition aims to highlight Glasgow's status as a United Nations (UN) City of Music, awarded in 2008 because of its rich musical heritage.
The honour, bestowed by the UN cultural body, Unesco, acknowledges the city's musical past and its role in music-making, performance and enjoyment.
Around 100 acts originally entered the competition with 24 - mostly from Scotland, with one act from Northern Ireland - being selected to perform.
'Free entertainment'
Four heats are being held on Thursday 15, 22 and 29 July and Thursday 5 August.
The winner of each heat, determined by public vote, will go forward to the live final on Thursday 12 August. The ultimate winner will be chosen by a panel of judges.
Glasgow Airport's terminal manager, Mark Johnston, hopes the event could become a regular feature in the city's music calendar.
He said: "As well as providing free entertainment for passengers, Airplay is a fantastic showcase for young, aspiring bands who will get the opportunity to perform in front of hundreds, if not thousands, of passengers from around the world.
"We have been inundated with entries from across the country, and we're delighted that Glasgow Airport is the first in Scotland to host a music festival of this kind."