First for new pain relief implant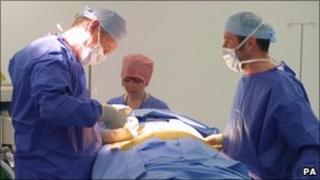 A woman has become the first person in Scotland to be fitted with an implant which uses Wii-style motion sensing technology to provide pain relief.
Ailsa MacKenzie-Summers, 42, from East Kilbride, had electrodes inserted onto her spinal chord, which when activated, create an electric field around it.
The electrodes then stimulate nerves around the spinal chord and mask pain by generating a tingly feeling.
The new device is automatic and does not require adjustments from patients.
The neurostimulator implant is only suitable for certain patients with chronic pain caused by nerve irritation that medication has not been able to treat.
'Positive impact'
Mrs MacKenzie-Summers has suffered from severe pain in her leg for a number of years as a result of nerve damage.
She was fitted with the new device under local anaesthetic at Glasgow's New Victoria Hospital.
Speaking before the operation, she said: "I already have an implant but certain movements are more painful than others and as such I have to adjust it almost all the time via a hand-held remote when I move.
"The fact that I won't need to adjust it when I move and that this will happen automatically will have an enormous positive impact on me.
"At the moment I can walk unaided for about 50 to 100m before having to use my crutches but with the new implant I should be able to move about much more freely, and crucially - without pain."
The device was fitted during a 45-minute operation by NHS Greater Glasgow and Clyde's Dr Gordon McGinn.
"The new neurostimulator implant is an excellent step forward in pain relief for patients with chronic neuropathic pain such as sciatica and other pain caused by severe nerve irritation," he said.
"Electrodes are inserted onto the spinal chord and when activated they create an electric field around it. The electrodes then stimulate the nerves around the spinal chord and effectively mask the pain by generating a pleasant tingly feeling.
"It's almost like when you bang your elbow and then rub it to mask the pain. The new implant has the same pain-masking effect."