Strike action closes Glasgow museums on Fair weekend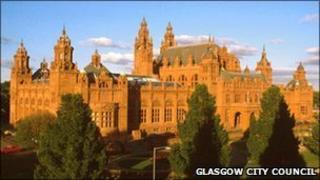 Strike action closed some of Glasgow's busiest attractions as the traditional Fair Fortnight holiday got under way.
Staff at Glasgow Life, formerly Culture and Sport Glasgow, have walked out in an ongoing dispute over pay and conditions.
The action means the Gallery of Modern Art and Kelvingrove Museum and Art Gallery will be closed on Saturday and Sunday.
Venues, including libraries and sports centres, could also close on Monday.
The People's Palace was closed on Saturday due to an event taking place on Glasgow Green.
The dispute follows a decision by Glasgow Life - which runs arts, sport and leisure services for the city - to implement a pay freeze from 1 April along with a change to "plain time" for all overtime worked.
It aims to make £3.4m in cuts this financial year and has been discussing with unions how it will implement them since September last year.
The union Unison claims a pay freeze, and changes to overtime, amount to a pay cut for some staff.
Details of all the closures can be obtained from the Glasgow Life website.