Bug hits staff and guests at Glasgow's Hilton Hotel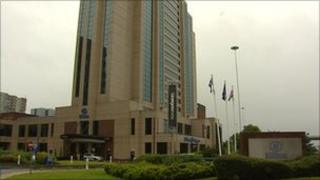 The NHS has confirmed 75 people have fallen ill after a suspected outbreak of the norovirus bug at the Hilton Hotel in Glasgow.
The Greater Glasgow and Clyde health board said 58 guests and 17 members of staff had suffered vomiting and diarrhoea since Wednesday.
Two guests were admitted to Gartnavel General Hospital on Sunday and have since been discharged.
Staff are said to be recovering at home and one infected guest is at the hotel.
NHSGGC has begun an investigation into the outbreak at the five-star city centre hotel.
Dr Anne Scoular, who chairs the health board's outbreak control team, said: "Laboratory confirmation is still awaited but we do believe, based on the clinical presentation of the cases, that this is a norovirus outbreak.
"We are however continuing with a full and thorough investigation as to the cause or source of the illness.
"We continue to be satisfied with the broad range of measures, including a programme of extensive cleaning using anti-viral agents, that have been put in place together with the Hilton team to contain the illness. All the appropriate infection control measures that we would expect remain in place."
A Hilton Worldwide spokesperson said: "In response to the suspected viral infection Hilton Glasgow is following its own strict health and safety procedures, as well as working closely with the local health officials, and is providing all possible assistance to the hotel's guests and team members."