Rallying round - blues and twos to Ulaanbaatar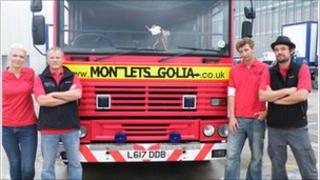 Four charity fund-raisers are hoping to complete the 10,000 mile Mongol Rally in a redundant fire engine.
The group, from the west of Scotland and Guildford in Surrey, hope to complete the journey within six weeks.
They plan to donate the vehicle, which saw service at Staleybridge in Greater Manchester, to fire authorities in the Mongolian capital Ulaanbaatar.
About 400 teams will take part in the rally, which starts from the Goodwood race track on Saturday.
Steven Smith, 44, from Portincaple near Helensburgh, told BBC Radio Scotland's Good Morning Scotland programme that the rally had been going since about 2004.
"It's a charity rally to drive from here in the UK to Outer Mongolia," he said.
"We're hoping we can get it across Europe, then on to Russia and Kazakhstan, then cross the Mongolian Steppe and Southern Gobi desert to reach the Mongolian capital Ulaanbaatar."
Kate Austin, 23, said going in a fire engine was "a bit more adventurous" than going in an ordinary car.
And 44-year-old Colin Taylor, from Gairlochead, said the aim was to donate the vehicle to emergency services in Mongolia.
"We've got a serviceable vehicle," he explained, "and Strathclyde Fire Brigade have very kindly had a look at it, and we've had some equipment from them.
"When we get to Mongolia, it's hopefully going to go into service for local people, bringing it back to life as a working fire engine."
Cameron Caine, 21, from Guildford, admitted the team have still to finalise their exact route.
"We've got a rough idea," he said, "and it will be somewhere in the region of about 10,000 miles, going through about 10 to 12 different countries."
When the rally first began, most entrants used old bangers, or cars chosen for comedy value.
There is one team, from Blairgowrie and Meigle, competing this year in a cherry-picker.
But Kate Austin, who is also from Portincaple near Helensburgh, said being in a fire engine could be an advantage if the team get held up in any traffic jams.
"We'll just barge our way through. Stick the sirens on," she laughed.