Farmers in convoy protest over energy plant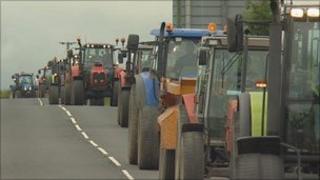 Farmers are staging a convoy protest over plans for a waste-to-energy plant in South Lanarkshire.
Dumfries-based Scotgen wants to develop a "gasification" plant at Carlisle Road, by Dovesdale, to create electricity from burning waste.
The firm is seeking planning permission for the plant which it claims would create up to 50 jobs.
Members of the Dovesdale Action Group are opposed to the plan amid fears of "toxic" waste and roads congestion.
Objectors fear their livelihoods will be harmed under plans to build the facility near Stonehouse, South Lanarkshire.
Dovesdale spokesman Stewart Weir said: "This is the first public protest we will have staged against Scotgen's proposals but there will be many more planned.
"We apologise in advance for any inconvenience this demonstration may cause.
"But it will be nothing compared to the damage done to this area should this plant ever start operating, or should there ever be an incident involving one of the vehicles transporting this waste."
About 20 vehicles formed a convoy around Canderside Toll, near the junction with the M74, on Tuesday morning.
However, Scotgen said objectors were misrepresenting the proposal.
A spokesman for the firm said some hazardous materials would be handled, but added: "These materials will certainly not be extensive in number or amount and will include materials such as oily rags, empty used containers and contaminated packaging.
"These are perhaps some of the very types of waste generated by the waste producers on this protest."