Lifelong restriction order for sex predator student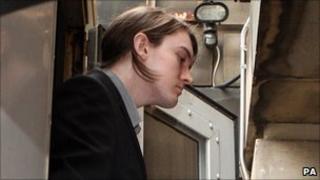 A student described by prosecutors as one of Scotland's most dangerous sexual predators has been given a lifelong restriction order.
Andrew Byrne, 21, admitted 32 charges relating to the abuse of children.
The High Court in Edinburgh heard how he used the internet to groom and abuse 19 children, aged between eight and 15.
Judge Lord Brailsford ordered Byrne to serve a minimum of six years backdated to July last year. This means Byrne can apply for parole in five years time.
At an earlier hearing, the court heard how the microbiology student at Glasgow University abused 11 girls and eight boys from across the UK who were aged between eight and 15 at the time.
'Special relationship'
Byrne, who lived in Glasgow's Byres Road, met the first girl in September 2007 through the MSN messenger service.
He eventually got her to carry out sex acts via a webcam as the youngster thought they were in a "special relationship".
A 13-year-old girl from Manchester then met Byrne through another chat service.
Byrne travelled down twice to meet her in 2008 and 2009 and recorded them being involved in "explicit sexual activity". He later forwarded the images on to nine other people.
Byrne then had sex with two underage girls, aged 13 and 15, in 2008 at a flat in Glasgow's Bridge Street.
He had sex with another 13-year-old girl after meeting her around Christmas 2008 in Fife.
About the same time, he met a third 13-year-old on MSN and they had "heavy sexualised chat".
Byrne later had intercourse with the teenager at his flat in Bridge Street.
During March last year, Byrne got in touch with a boy and girl, both aged 11, who came from Yorkshire.
He was eventually found with a sexual clip of the friends on his laptop.
Byrne then tried to get a 15-year-old girl to meet him for sex, but she repeatedly refused.
Sex-for-cash offer
Last Easter, he got in touch with a 12-year-old girl on the Bebo social networking site.
He offered her £60 in exchange for sexual intercourse which she declined.
In May, Byrne chatted to a 14-year-old boy from Glasgow about having sex with him.
Soon after he was in regular contact with a 15-year-old who has since been convicted of abusing an eight-year-old boy.
The court heard how Byrne would ask this boy, via webcam, to perform sex acts on the eight-year-old and record it.
Byrne and the 15-year-old also had discussions about the possibility of raping the teenager's former girlfriend.
In June, he arranged to meet a 13-year-old boy from Edinburgh for sex, but the teenager did not appear.
He then had lurid conversations with two young girls on Bebo and MSN. He had similar contact with three boys, aged 13 and 14, about the same time.
Byrne was arrested in July last year during the UK-wide "Operation Defender" led by Central Scotland Police to snare internet paedophiles.
Indecent images
A total of 591 indecent images were discovered, about 60 of which were classified at the worst end of the scale used by the authorities.
Byrne told police that he chatted and arranged to meet children for the purposes of sex.
He admitted downloading "weird stuff" from the internet adding: "I don't know why I keep doing it."
Appearing for sentencing at the High Court in Edinburgh, Lord Brailsford told Byrne that he was "quite satisfied" that the terms were met for imposing an Order for Lifelong Restriction on him.
He quoted from a risk assessment carried out on Byrne which stated: "Mr Byrne can be considered as posing a risk of sexual violence towards the general public most notably male and female children."
Lord Brailsford told Byrne: "It remains for me to fix the determinate part of the sentence which you require to spend in custody before you can be considered for release."
The judge ordered that he should serve a minimum term under the order of six years, but backdated it until 20 July last year.
He also placed Byrne on the sex offenders register.
Lord Brailsford said he accepted that Byrne had fully co-operated with the investigating and prosecution authorities since his arrest and that had not only avoided the need for a trial but has helped bring prosecutions in other cases.
The judge told him he would have faced a minimum term of eight years, but for his guilty pleas.
A lifelong restriction order is reserved for the most serious cases of sexual and violent offending short of murder.
When imposed, an offender must serve the minimum term set, but any decision to free them is taken by the parole board.
On release, offenders must be kept under supervision for the rest of their life.