Merchant City Festival under way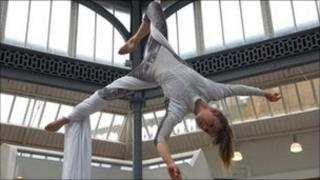 The annual Merchant City Festival is getting under way in Glasgow.
The city's cultural quarter is staging hundreds of performances in theatre, music, food, outdoor performance, visual arts, dance and fashion.
Up to 50,000 people are expected to attend the festival, which runs from 22 to 25 July.
This year's highlights include the "Desperate Men" theatre company, video and visual artist, Gavin Lockhart, and Portuguese group FIAR Produção.
City Council leader Gordon Matheson, who also chairs the Merchant City Festival, said: "Anyone who has attended or participated in the festival in previous years can vouch for the fact that it's a fantastic, cultural experience.
"With our new summer dates coming into play, it's sure to be the most enjoyable one yet.
"Each year we build and expand upon the year before - this year both nationally and internationally - ensuring the programming stays fresh, innovative and exciting - and above all else, unique to Glasgow."
'Underneath pavements'
This year's festival launched at the redeveloped Briggait in the Merchant City.
Acrobat Jennifer Paterson opened the festival with a display using aerial silks. Paterson will appear at the festival as part of the Spokes duo with performance partner Lucy Deacon.
This year the festival programming is themed with the concept of "Sous les paves, la plage".
Neil Butler, Director, UZ events, who is responsible for managing the festival's artistic programming, explained: "Literally translated as 'underneath the pavements, the beach', it refers to graffiti found on the streets of Paris in 1968 and was one of the many slogans and actions created by a group of philosophers and artists called the International Situationists.
"For the Merchant City Festival, the theme will encourage artists and performers to engage directly with the Merchant City, its architecture, its people and its history."