Farmer flummoxed by monster egg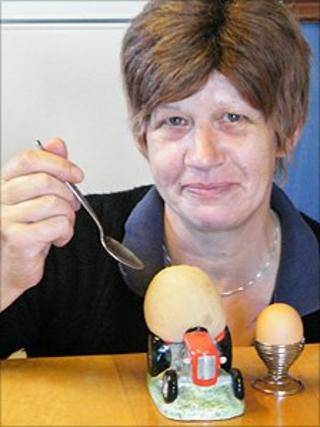 A massive egg three times the size of an ordinary large one has been found on a poultry farm in Scotland.
The 203g (7oz) specimen was laid at a free range farm, on the isle of Seil, near Oban.
Owner Flo Macaskill spotted the egg, which has a soft shell and is the size of a baked potato, on a conveyer belt.
She does not know which hen was responsible but reckons its efforts were equivalent to a woman giving birth to a 24lb (10.88kg) baby.
Mrs Macaskill said: "It came through on the collection conveyor belt and I didn't know what it was at first - it's the biggest egg I have ever seen."
Her husband, Ewen, 58, who helps out on the farm, said the egg definitely stood out from the crowd.
He said: "Flo was really taken aback when she saw it - she had quite a turn.
"I recall an egg once weighing 110g - and a 120g one would be a huge egg - but we have never seen anything of this size before.
"The shell is soft, the hen wouldn't have been able to lay it if it had been a hard shell."
The couple have 1,300 Shaver Brown hens, which are 53 weeks old.
They add special supplements, of seaweed, oyster shell and natural slate grit from the island, to their hen food.
Mr Macaskill added: "We used to keep hens at a house by the shore and the eggs were particularly rich in yolk colour, but now our main hen houses are not at the shore, but we have continued to haul up the odd trailer of seaweed and shell to give to them.
"I don't know if that's got anything to do with the size or not. I think it's just a fluke."
Mr Macaskill said he planned to "fry it and have it in a piece (sandwich)".
The couple have been unable to trace any information on record weights for Shaver Brown eggs so do not know if it is a record or not.