N-Dubz drummer denies sex claims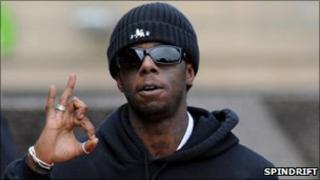 The drummer of award-winning band N-Dubz has denied sexually assaulting two women in Glasgow.
Aaron Fagan, 25, told Glasgow Sheriff Court the women had made up the allegations after being turned away from the band's aftershow party.
He described himself in relation to women as like "honey to a swarm of bees" and referred to Glasgow as "hardly a haven for models".
Mr Fagan was arrested at Strathclyde University Sudents' Union in October.
The drummer is accused of sexually assaulting the women at the John Street Union after attending the Mobo awards which were held in Glasgow the same night.
He told the court that he was "on a high" that night after the band had won several awards.
He said: "After the gig I remember going out into the crowd to mingle with some of the fans and whoever shows me love gets love back."
Mr Fagan said some girls were pinching his bottom and kissing his neck, adding: "I'm like honey to a swarm of bees."
He claimed that the two women then approached him and asked if they could go to the aftershow party.
He said: "They were being quite flirty and had linked arms with me and because I knew they really wanted to come I said I would go and ask the tour manager.
"We walked upstairs and I remember I was in the middle with my hands round their waists and they had their arms round me."
Defence lawyer Euan Cameron asked Mr Fagan if he ever touched the girls on their bottoms or breasts and he replied: "No, that's totally incorrect, it never happened."
Mr Fagan added: "It was all merry at this point. If there had been indication that these girls felt intimidated or were scared it would've ended."
'Below standards'
The musician claimed that he then went and spoke to the band's tour manager Mark Sutton to try to get the girls access to the party.
He claims that Mr Sutton told him and the girls that they were a "bit below standards" and "minging" and refused to let them go to the party.
Mr Fagan said: "The girls were angry and upset and they stormed off."
He claimed that a short time later he went outside and was arrested by police who had been called by one of the door stewards after the girls had complained.
Mr Cameron said: "It may be put to you that you simply felt like a kid in a sweetie shop with all these girls and thought you could do what you wanted to them, what would you say to that?"
Mr Fagan replied: "I've met girls from all over the world so why on this one day in Glasgow, which is hardly a haven for models, would I suddenly go mental."
Prosecutor Keith O'Mahoney put it to Mr Fagan that he was lying because the band wanted to break into America and he wouldn't be able to do so with a sex assault conviction.
Mr Fagan replied: "I'm not lying."
Mr O'Mahoney asked: "Are you really suggesting that two young girls have came in here and lied about what happened to them because you wouldn't let them go to your party?"
Mr Fagan replied: "Yes that's what I'm saying."
Charge dropped
The court earlier heard from the 20-year-old who claimed that Mr Fagan told her "I'm having you tonight" before grabbing her bottom and breasts as they walked up a set of stairs.
Her 19-year-old friend also told the court that Fagan grabbed her bottom.
They both denied lying because they were refused entry to the aftershow party.
Mr Fagan was initially also charged with making indecent comments to the girls but prosecutors dropped this charge against him.
The trial, before Sheriff Johanna Johnston QC, continues next month.