Golf plea over 'appalling' attack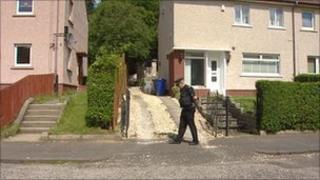 Police investigating an attack on a couple in their Paisley home want to speak to a man seen pulling a golf trolley.
A 37-year-old man was seriously injured after two youths broke into the house in Paisley's Saucelhill Terrace at about 0500 BST on Friday.
His wife, 38, was also hurt in the "appalling" attack, police said.
Officers said they were keen to hear from a man who was seen walking along South Campbell Street.
He was pulling a golf trolley behind him, was wearing dark clothing and had white hair.
Det Ch Insp Cameron Cavin said: "I would appeal directly to this man to come forward to police, as we believe that he may have seen or heard something and may hold information which could help move this inquiry forward."
Police said the woman was confronted by two men in dark clothing when she got out of bed.
She screamed, waking her husband, who went to help her.
One of the housebreakers struck the woman with a knife, leaving a severe cut on her wrist.
She managed to run downstairs but was followed by the intruders.
Her husband then grabbed one of the men, but was attacked and stabbed a number of times.
The culprits fled and the couple were taken to Royal Alexandra Hospital in Paisley, with both needing surgery.
Police said the suspects were white men, aged between 17 and 19.
The first is described as 5ft 10in, with short, blond spiky hair, possibly wearing a black jacket and dark trousers.
The second was of similar build, wearing dark clothes and possibly a dark hat.