Glasgow space firm plans to build CubeSat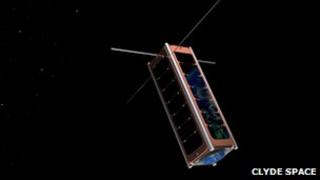 A Glasgow-based company is to build a miniature satellite that will allow the UK to test new space technologies.
Clyde Space will develop a spacecraft platform for the cube-shaped satellite as part of a one-year pilot programme announced by the UK Space Agency.
It will be the first time a CubeSat, as it is known, has been assembled in the United Kingdom.
Space officials said the tiny satellite would carry out new space research relatively cheaply and quickly.
The satellite will measure just 10cm x 10cm x 34cm, according to Clyde Space.
Companies and academics are being asked to come up with innovative ideas for CubeSat payloads as part of the pilot programme.
The winning payloads will be launched on the satellite, possibly from India, in the middle of next year.
Craig Clark, chief executive of Clyde Space, said the launch of the CubeSat programme was a "tremendous opportunity" for his company.
He said: "As with all space-related business, the best way to market space products is through their successful demonstration in orbit.
"By providing the CubeSat platform, we will benefit immensely from the opportunity and so it is vital to the growth of Clyde Space as a leading CubeSat company.
"I feel also that this programme is vital for the UK's commercial exploitation and export of CubeSat technology in this rapidly growing market."
Dr David Williams, chief executive of the UK Space Agency, commented: "These satellites may be smaller than your home computer, but with the payloads that our skilled scientists will add to them, they are sure to make up in innovation what they lack in size."