Rural schools' future 'in doubt'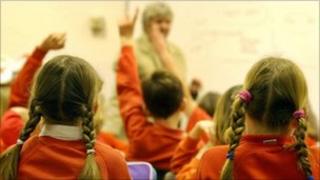 The future of rural schools has been threatened after ministers failed to intervene to stop the closure of an Ayrshire primary, it has been claimed.
The Scottish Rural Schools Network said ministers should have called in East Ayrshire Council's decision to close Crossroads Primary, near Kilmarnock.
It claimed the refusal contradicted an SNP manifesto pledge.
The Scottish government said it was satisfied the council's decision had met its statutory obligations.
The Scottish Rural Schools Network said it was "bitterly disappointed" that ministers had decided not to formally review the closure of the 52-pupil primary.
Spokesman Sandy Longmuir told BBC Scotland: "Instead of calling in the appeal of the closure and scrutinising it, the government have decided to do nothing. As far as they're concerned the council has done nothing wrong.
"This contradicts the SNP manifesto pledge to introduce legislation with a presumption against rural school closures.
'Wrong signal'
"We worked with them in drawing up new legislation, so to hear them say that they're satisfied that educational benefits are at the heart of the Crossroads decision is just ludicrous."
Mr Longmuir said Scottish ministers' decision not to intervene had set a "dangerous precedent" for other rural schools.
"Councils in Moray, Argyll and Bute, Shetland and the Western Isles are all either consulting on school closures or watching on government reaction," he said.
"This was effectively a test case and sends out totally the wrong signal on saving rural schools."
A spokeswoman for the Scottish government said ministers were satisfied that East Ayrshire Council had fulfilled its obligations under the Schools (Consultation) (Scotland) Act 2010 and that the changes would be to the benefit of pupils.
"The act was never intended to mean that no schools would ever close," she said.
"It is, however, designed to ensure that educational benefits are at the heart of the decision-making process and that anyone affected has an opportunity to have their voice heard in an open and transparent consultation process.
"School closure decisions must be taken by those with the best knowledge of local circumstances and locally elected and accountable. Scottish ministers will only ever become involved when there is strong evidence that a council has failed to fulfil its obligations under the act."
Education Secretary Mike Russell added: "Parents have not forgotten that under Labour every single school closure referred to ministers was agreed."
'Worthless pledges'
The Scottish Labour Party accused the Scottish government of failing to keep its promises.
Education spokesman, Des McNulty, said: "Once again pledges made by the SNP in its election manifesto have turned out to be worthless.
"Instead of making promises they can't keep, SNP ministers need to start acting on parents' concerns over their children's education."
The Scottish Conservatives said the move was indicative that "some very tough decisions" had to be made.
The party's education spokeswoman, Liz Smith, said: "This will be a very disappointing decision for the parents and pupils concerned, especially in light of the new legislation which was specifically designed to protect our smaller schools.
"Clearly, however, there were major barriers in the way of maintaining the safety and economic viability of this school."