Man admits killing teenager with scissors in Blantyre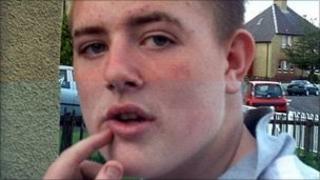 A 23-year-old man has admitted killing a teenager by stabbing him in the neck with a pair of scissors.
Daniel Bonner attacked Liam Morrison during a row in Blantyre, South Lanarkshire, in April this year.
The High Court in Glasgow heard how the fight started after the 18-year-old accused his girlfriend of kissing Bonner's brother.
Sentence on Bonner, who pleaded guilty to charges of culpable homicide and assault, was deferred until September.
The court was told that Bonner's brother Patrick became involved in a row with another man in Blantyre on 22 April.
When Mr Morrison's girlfriend Zoe Brown went to calm Patrick Bonner down, the victim is alleged to have shouted at her: "Is that you kissing Pat?"
Blows exchanged
Miss Brown denied this before Patrick Bonner told his brother of the comment and he confronted Mr Morrison.
Bonner then kicked the teenager off a bollard that he was sitting on and punched him.
The court was told that Mr Morrison left the scene but returned later and exchanged blows with Bonner.
He is alleged to have pulled out a pair of scissors which he used to attack Bonner.
During a struggle Bonner grabbed the scissors and stabbed Mr Morrison twice in the buttocks. He then lunged at the teenager and struck him in the neck.
Mr Morrison pulled the scissors out and yelled that he had been stabbed. He was pronounced dead at the scene by paramedics a short time later.