Retired Scots judge to look at Chinook crash evidence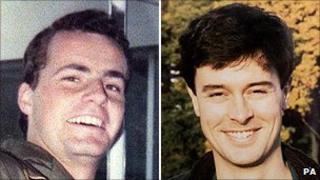 A retired Scottish judge has agreed to conduct an independent review into an RAF Chinook helicopter crash on the Mull of Kintyre.
BBC Scotland has learned that Lord Philip is expected to lead the inquiry into the 1994 accident which killed all 29 people on board.
The RAF found the two pilots guilty of gross negligence for flying too fast and too low in thick fog.
The pilots' families have campaigned to have the ruling overturned.
The Chinook Mark 2 helicopter crashed on 2 June 1994 en route from Northern Ireland to Inverness in the worst RAF helicopter accident in peacetime.
The bulk of the aircraft was destroyed, killing special forces crew and 25 senior members of Northern Ireland's intelligence community.
Flt Lt Jonathan Tapper, 30, from Burnham Thorpe, Norfolk, and Flt Lt Richard Cook, 28, from Church Crookham, Hampshire, were initially cleared of blame by an RAF board of inquiry.
It ruled it was impossible to establish the exact cause of the crash and a fatal accident inquiry reached the same conclusion.
The Ministry of Defence said the helicopter was airworthy. Following an official RAF inquiry into the incident reviewing officers found the pilots guilty of gross negligence.
However, three subsequent inquiries have found the cause of the crash on the western coast of Scotland was inconclusive.
The pilots' families and campaigners have always believed serious flaws in the helicopter were likely to have been responsible for the crash.
They are now pinning their hopes on the latest review, established by the Defence Secretary Liam Fox.
BBC Scotland understands that retired Scottish judge Lord Philip has agreed to conduct the inquiry.
It is likely to be held in private and be a short, three to four month-long review of the evidence.
In a statement, the Ministry of Defence said that there will be a review of the evidence, and that it is looking at how best to conduct that review.