Islanders complete Bute forest buyout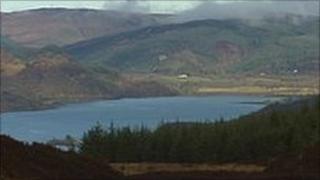 Islanders on Bute have completed the buyout of part of a forest previously owned by film director Richard Attenborough.
In February, 93% of residents backed the plan in a local referendum.
The cash was raised by buying Rhubodach Forest for £1.475m then selling part to the Mount Stuart Estate for £1.25m.
The company set to buy the forest also received funding from Highland and Islands Enterprise (HIE) and from community and private funders.
The community plans to develop walking and mountain bike trails, woodland play areas, eco lodges and a forest hub to attract the green tourist market.
Over the first 10 years, the Bute Community Land Company (BCLC), which was formed by local people to acquire the forest, hopes that its plans will create about 45 jobs and bring in about £8.4m in income.
Community confidence
BCLC chairman John McGhee said: "The purchase of the forest has been a huge challenge for us, particularly given the lack of public funds, but what is fantastic is the way the community has pulled together and demonstrated its ingenuity and determination to have a say in the future prosperity of the Island.
"We have also identified a variety of sustainable, income-generating initiatives that will provide the necessary investment to achieve what we want, including a hydro scheme which we believe can generate £37,000 a year."
Douglas Cowan, HIE's area manager in Argyll and the islands, said: "The value in terms of community confidence which this project has achieved should not be underestimated."
Enterprise Minister Jim Mather said the company and the local people had shown "enormous perseverance, imagination, energy and resilience".
"They have started a process and unleashed new levels of confidence that are now unstoppable and will deliver real benefits for Bute and its people," he said.