Cumbernauld pools closed over diarrhoea bug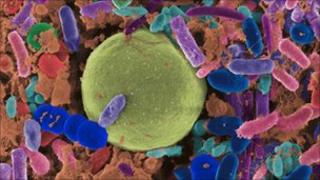 Health officials in Lanarkshire are investigating a rise in local cases of cryptosporidiosis - an infection which causes diarrhoea.
Three pools have been closed as a precautionary measure at Cumbernauld's Tryst Sports Complex.
The move was made after it emerged some people with the infection had been swimming there.
Cryptosporidiosis is passed from person to person and from animal to person - usually through contaminated water.
NHS Lanarkshire's health protection team, North Lanarkshire Council, Health Protection Scotland and the Health and Safety Executive are working together to investigate the outbreak.
Dr John Logan, consultant in public health medicine said: "We recognise that these cases may not have acquired their infection from using the swimming pools and our investigations include reviewing other possible explanations for the increase.
"We do expect to see cases of cryptosporidiosis throughout the year and regular reviews take place to identify if there are any common factors."
Anyone with concerns about a diarrhoeal illness is advised to contact their GP or NHS 24 for advice.