Rapist in 14th legal team sacking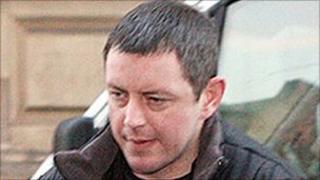 A rapist who fired his defence lawyers 13 times in an apparent bid to avoid sentencing has parted company with the legal team overseeing his appeal.
John Munro, 37, was jailed for eight years and given a lifelong restriction order for raping and strangling an 18-year-old girl in Barrhead in 2007.
A hearing at the Appeal Court in Edinburgh on Thursday was delayed so he could find new lawyers.
Munro was told the appeal would definitely go ahead next month.
In his appeal, Munro, of Glenburn, Paisley, claims there was not enough evidence for a jury to find him guilty of rape. He also claims his sentence was too severe.
During his original trial, the court heard how how Munro's teenage victim was looking for a taxi when he approached her.
He grabbed her by the neck, claimed he had a gun and pulled her down a narrow lane.
Munro then strangled the girl until she passed out and raped her.
He had claimed the girl had been a willing partner but the jury rejected his story.