Youth on attempted murder charge over Paisley break-in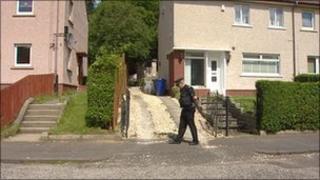 A teenager has been charged with attempted murder after a couple were seriously injured during a break in at their home in Renfrewshire.
Ian Michie, from Paisley, is alleged to have stabbed Johannes Alder, 37, and his 38-year-old wife Elizabeth at their home in the town last Friday.
The 16-year-old made no plea or declaration at Paisley Sheriff Court and was remanded in custody.
Police said an 18-year-old man had also been arrested over the incident.
Mr Michie is alleged to have repeatedly stabbed Mr Alder on the head and body with a knife or similar instrument and attempting to murder him, while acting along with another.
Theft charges
It is claimed he also assaulted Mrs Alder by stabbing her on the arm to her injury.
He is also charged with breaking into the couple's property and stealing two rings, a wallet and its contents, an Ipod, a packet of tablets and five knives.
Mr Michie is also alleged to have forced open a vehicle in the town's Ardgowan Street, on the same date and stolen a satellite navigation system.
Sheriff Colin Pettigrew continued the case against him for further examination.
Meanwhile, police have confirmed that an 18-year-old man has also been arrested in connection with incident.
He is expected to appear at Paisley Sheriff Court on Friday.