Drink theft clue in Maryhill murder probe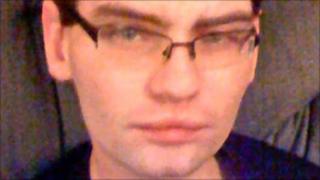 Police investigating the murder of a 29-year-old man in Glasgow have revealed he was attacked by several people who tried to steal his alcohol.
Paul Woods, 29, was found with a serious head injury in Maryhill Road, at about 2200 BST on Wednesday.
He died in the city's Southern General Hospital on Thursday morning.
Police said Mr Woods was punched or knocked to the ground outside a shop in the Maryhill area after being approached by at least three people.
Det Insp John Kennedy, of Strathclyde Police, said: "Our enquiries so far have established that Mr Woods had been out watching the Braga v Celtic match in a nearby pub, and was walking home with a friend when they both stopped at a local shop to buy some alcohol.
"As he waited outside the shop for his friend, he was approached by at least three people, both male and female, and it would appear that one of them either punched him or knocked him to the ground as they tried to steal his alcohol.
"We have had a decent response from members of the public, and would like to thank those who stopped to assist him as he lay bleeding. However, we still have to identify his attackers."