Protest over bid to deport Cameroonian journalist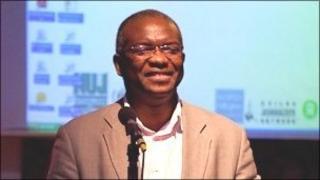 A protest has been held outside the UK Border Agency office in Glasgow over the planned deportation of a Cameroonian journalist.
Charles Atangana, 42, has been seeking asylum since arriving in the city in 2004 but his final appeal was rejected.
Supporters claim he was previously arrested, beaten and held without charge for 40 days after being critical of President Biya's government.
They want Home Secretary Theresa May to grant him a judicial review.
Mr Atangana's case is being supported by his local MP, Margaret Curran, who has written to the home secretary.
The protest on Monday was attended by about 70 people, including Central Scotland MSP Christina McKelvie.
Mr Atangana is currently detained at the Colnbrook Home Office detention centre outside London and was due to be deported on Monday.