Sausage skin firm Devro post 86% rise in profits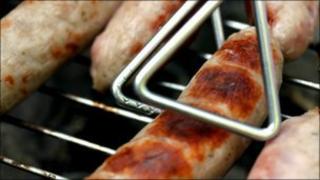 Scottish sausage skin maker Devro has announced an 86% rise in half year profits as global demand for its product continues to grow.
The company, which is based in Moodiesburn, made just over £17m in the first six months of this year.
Devro makes collagen products for the food industry and said it expected the good performance to continue for the rest of the year.
The firm said sales had been strong in the UK as well as Russia and Japan.
The company has increased its interim dividend by 40.4% to two pence-per-share.
Devro's chief executive Peter Page said: "We've grown profitable sales in developed and emerging markets and we've made real progress in our manufacturing efficiencies, giving us a better margin on these sales."
The company said it expected its markets to continue to provide opportunities for growth.
Steve Hannam, chairman of Devro, added: "The global market for collagen casings continues to grow at an estimated 5% per annum, driven primarily by economic expansion and increased meat consumption in emerging markets.
"The continuing high cost and reduced availability of gut casing is also increasing the demand for collagen casings through increased substitution."