Russian customs row threatens fire engine gift
A customs row is holding up three fire engines heading for Outer Mongolia.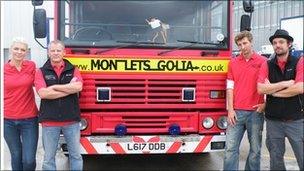 The vehicles which are taking part in the Mongol Rally, are due be donated to authorities in the capital, Ulaanbaatar, at the end of the race.
But they have been delayed at a customs checkpoint near Tagan Rog in southern Russia.
Officials said the former Greater Manchester fire engine and two ex-military Green Goddesses needed special permission to cross.
Steven Smith, 44, from Portincaple near Helensburgh, told BBC radio's Good Morning Scotland programme that they "got through the frontier no problem".
"Unfortunately once we reached the customs gate, the customs guys have found a new piece of paperwork nobody's ever heard of that we need to get," he said.
"What we're doing now is we're sitting, waiting, trying to find out who to speak to, and what this piece of paper that they need is, to let us carry on."
The teams have been told they may need to pay customs duty equivalent to the value of their vehicles.
They have asked the British embassy in Moscow and their local MPs to help resolve the problem.
Speaking to the BBC news website, Alan Reid, the MP for Argyll and Bute, said: "The embassy sent the fax they were asked for first thing this morning, but that doesn't seem to have got the vehicles released".
"The Russian authorities seem to be very slow."
The teams still have about 4,500 miles to go.
The delay may mean they have to re-plan their route because some of their visas are about to run out.
The Monletsgolia team members are from the west of Scotland and Guildford in Surrey.
The teams driving former Army vehicles are the Bristol Sand Club and Ghengis Goddess, a group of students from Bath, Edinburgh, Falmouth and Warwick universities.
Related Internet Links
The BBC is not responsible for the content of external sites.