Man filmed vulnerable boy runaway in Glasgow home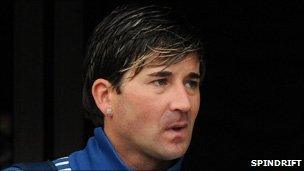 A man has admitted taking indecent images of a runaway teenage boy with learning difficulties after luring him back to his home in Glasgow.
Greig Brydon, 37, took pictures and videos of the 15-year-old at his flat in Maryhill, in November last year, after plying him with alcohol.
Glasgow Sheriff Court heard how he was caught after the teenager handed himself in as a missing person.
Sentence on Brydon was deferred until next month and he was released on bail.
The court heard how the victim, who cannot be named for legal reasons, was reported missing on 7 November 2009.
Brydon and his brother had been drinking in the Thistle Bar on Maryhill Road when they went out for a cigarette and spotted the teenager and started to chat to him.
After a while, the three of them went back to Brydon's flat to have a drink.
Brydon's brother later left and it was then that he filmed the boy performing a sex act using his Nokia mobile phone.
The teenager left the flat sometime later and told a concierge that he was a missing person and the police were called.
He later told officers about his visit to Brydon's flat and they carried out a search of his home.
They found his mobile phone which contained seven photos and two videos of the boy.
Brydon had also downloaded the images on to his computer.