Court takes all of Glasgow drug dealer's cash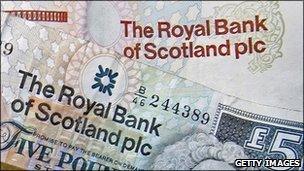 A woman caught with drugs and cash worth about £10,000 is to lose all her assets - worth more than £91,000 - under proceeds of crime legislation.
Jeanette Holmes, 52, was convicted of being concerned in the supply of drugs after police raided her house in the city's Royston area earlier this year.
A confiscation order was granted last week at Glasgow Sheriff Court.
The ruling allowed prosecutors to seize all her income and assets gathered in the past six years before conviction.
Officers raided Holmes' property after being tipped off that she was storing and supplying drugs there.
They recovered 27.89g of cocaine, with a potential street value of £1,120.
Police also found £8,837 in loose notes, 60 Euros and a gas canister which is classified as a firearm.
Following her conviction, for which she received 300 hours community service, a confiscation order for the amount of £91,458 was granted against Holmes.
The Crown Office later explained that the sums involved were relatively small compared to the amount of the confiscation order.
The court ruled, however, that because of her conviction it was fair to consider that all of her income and assets in the previous six years to conviction could be considered proceeds of crime.
Lesley Thomson, area procurator fiscal for Glasgow, said: "Jeanette Holmes is an example of somebody who seeks to finance their lifestyle through illegal activity and the public rightly expects us to ensure that criminals do not benefit from their crimes.
"This should send out a stark message that the Proceeds of Crime Act gives us the tools we need to recover unlawfully obtained cash and assets, and we will use the act to its full extent.
"Not only will we seek to recover their assets but we will disrupt their activities, prevent them reinvesting their profits, and, wherever possible, frustrate their efforts to carry on their criminal enterprises."
Related Internet Links
The BBC is not responsible for the content of external sites.