School closure plans 'called in'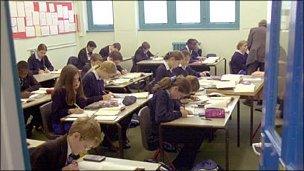 Plans by Scotland's largest council to close three schools have been "called in" by the Scottish government.
Education Secretary Mike Russell made the decision after education inspectors voiced concerns over the moves by Glasgow City Council.
The proposed closures of Stonedyke Primary, St Joan of Arc School and St Aidan's School have now been halted.
Glasgow City Council said the call in was a "political decision" taken for "bogus reasons".
The authority has been asked to provide more information to allow ministers to make a final decision.
Stonedyke Primary teaches youngsters from the Drumchapel and Summerhill areas of the city.
Under the council's plans, pupils would transfer to two other primary schools.
Her Majesty's Inspectorate of Education (HMIE) said there were a "number of issues to be addressed by the council" before it would be clear that the move would have educational benefits.
St Joan of Arc and St Aidan's schools cater for youngsters aged 11 to 18 with additional support needs, with both schools having a number of pupils with autism.
Under the plans, most of these students would go to a new school, with a few transferring to a small specialist unit in John Paul Academy in Glasgow.
An HMIE report said: "Given the relative lack of detail about proposed modifications, it is presently difficult to be sure that the council's proposal will lead to improvements in the educational experience of, and outcomes for, young people who are currently in St Aidan's and St Joan of Arc."
Speaking about his decision to call in the closure plans, Mr Russell said: "I do not believe the educational benefits of the proposal are set out in sufficient detail, as HMIE make clear in their reports and I have therefore decided this proposal requires further scrutiny.
"In each of these three schools, education inspectors have raised concerns over Glasgow City Council's plans. These concerns are focused on how the education of the pupils will be improved in their new schools.
"In their official report into the plans, the inspectors have called on Glasgow to provide more information. It is right and proper that we take the time to allow this information to be provided and considered before allowing the closure to go ahead."
Councillor Jean McFadden, executive member for education at Glasgow City Council, said: "This is an entirely political decision which has been taken for entirely bogus reasons.
"The minister is desperately thrashing around looking for something to cover his understandable embarrassment about Crossroads Primary in Ayrshire."
Councillor McFadden's comments refer to the Scottish government's decision not to call in the closure of Crossroads Primary by East Ayrshire Council.
The move was criticised by the Rural Schools Network who said the closure "flew in the face" of laws created to protect smaller schools.
Related Internet Links
The BBC is not responsible for the content of external sites.