Customs row puts charity fire engine into reverse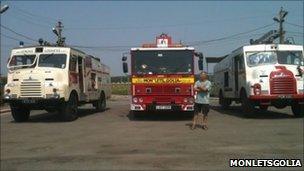 A team of Scots fund-raisers racing a fire engine to Mongolia are on the move, after being held on the Russian border for five days.
Despite support from MPs, and the British embassy in Moscow, officials demanded extra payments and paperwork.
Now the group are heading back into Ukraine, to try a different crossing point.
They plan to donate their vehicle to emergency services in the Mongolian capital.
Monletsgolia are one of 340 teams taking part in the deliberately eccentric Mongol Rally.
Driving a wide range of different vehicles, contestants set off from Goodwood racetrack, in West Sussex, on 24 July.
Steven Smith, from Portincaple near Helensburgh, told the BBC Scotland news website he hoped they would find officials at a different border crossing would be more helpful.
The group has been travelling, and waiting, with two groups of students driving ex-army Green Goddesses.
One, the Bristol Sand Club, have now given up because their visas are about to run out.
The other, Ghengis Goddess, hope to continue their journey in about a week.
Alan Reid, the MP for Argyll and Bute, said the British embassy in Moscow had sent the fax customs officers had been asking for "but that doesn't seem to have got the vehicles released".
"The Russian authorities seem to be very slow," he added.
If the team do eventually manage to cross the Russian border, they will still have about 4,500 miles to go before they reach their destination.
Related Internet Links
The BBC is not responsible for the content of external sites.