Schools site to house new prison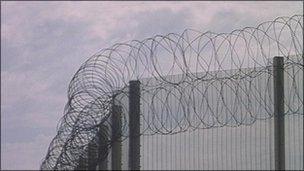 A new £60m prison - HMP Inverclyde - looks set to be built on the site of two former schools in Greenock.
Inverlcyde Council has given the go-ahead for the disused Greenock High and Glenburn Schools to be sold to the Scottish Prison Service (SPS).
If planning permission is granted, the new 300-cell facility could be opened in August 2015 with the first prisoners arriving three months later.
HMP Inverlcyde is intended to replace the existing HMP Greenock at Gateside.
Inverclyde Council said the new prison would "bring jobs and investment to the area, as well as safeguarding existing jobs".
The SPS announced plans in 2008 to replace HMP Greenock with a new facility.
A number of potential sites were considered, with the Greenock High option emerging as the favourite earlier this year.
A spokesman for the SPS said: "The current prison is 100 years old and has served the community well.
"However, it needs to be replaced as part of the investment programme now underway to bring Scotland's prison estate up to modern standards."
Related Internet Links
The BBC is not responsible for the content of external sites.