Senior SNP councillor backs council tax rise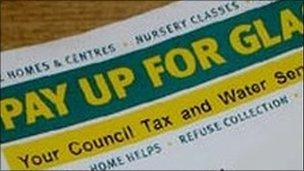 A senior SNP councillor has said that he would "not be opposed" to ending the council tax freeze in certain cases.
West Dunbartonshire Council leader Ronnie McColl said if the policy ended ministers should clarify if an extra £70m would still be available.
The freeze was put in place by the SNP government after the 2007 election.
Councillor McColl's comments came after Glasgow City Council leader Gordon Matheson said the tax freeze was unsustainable in the face of cuts.
In a statement, Councillor McColl said: "West Dunbartonshire Council, along with many other local authorities is facing significant financial challenges as a result of the recession and the subsequent reductions in public sector budgets.
"I am not opposed to the suggestion of scrapping the freeze but I would like to know if Mr Swinney (finance secretary) were to scrap the council tax freeze policy would the money set aside still be given to local authorities.
"This would certainly assist local authorities but could potentially be a major financial burden as people have budgeted on the council tax freeze policy."
The Scottish government has expressed an aspiration to freeze the council tax for a fourth year in a row.
However, in a BBC interview on Monday, Deputy First Minister Nicola Sturgeon was unable to promise that they would do this.
The Scottish government will not know its budget for next year - or how much it may be able to offer local authorities - until the results of the UK government's comprehensive spending review in October.
The council tax freeze is likely to be discussed at a routine meeting of Scotland's council leaders next week.
Related Internet Links
The BBC is not responsible for the content of external sites.