Council fined over pier car death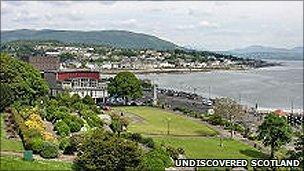 A council has been fined £20,000 over the death of a pensioner who accidentally drove off the edge of a pier and plunged into the sea.
Duncan MacGillivray, 75, drowned after his car reversed off Coal Pier at Dunoon, Argyll, in September 2007.
Argyll and Bute Council pleaded guilty to a health and safety breach after an investigation found there were no barriers where Mr MacGillivray parked.
The fine was imposed following a hearing at Dunoon Sheriff Court.
Following an investigation by the Health and Safety Executive (HSE) Argyll and Bute Council admitted breaching Section 3(1) of the Health and Safety at Work etc Act 1974 following the drowning on 17 September 2007.
HSE inspector Mike Orr said: "Mr MacGillivray died in tragic and traumatic circumstances, ultimately drowning in the sea below the pier.
"A simple risk assessment would have identified the clear risks of an unprotected sheer drop into the sea at the edge of a car park - but sadly the council failed to do this.
"Argyll and Bute Council was responsible for the maintenance and operation of this charging public car park.
"When it changed the use of the pier, from a commercial site, it should have quickly identified any risks to members of the public. It's simply not acceptable that this didn't happen."
The local authority said a traffic barrier and hand rails had since been installed at the car park and all other parking areas near piers had been checked for their safety.
A spokeswoman said: "Argyll and Bute Council deeply regrets that this accident was able to happen, and the distress that Mr MacGillivray's death brought to his family and friends.
"In deciding the appropriate level of fine, the sheriff took into account the fact that the council accepted that it had breached health and safety legislation and co-operated fully with the Crown.
"Following the incident, the car park remained closed to allow the council to carry out a detailed risk assessment both of the car park itself and of the pier.
"Actions carried out to prevent a recurrence before the car park reopened included the installation of a traffic barrier and pedestrian hand rails.
"All other Argyll and Bute car parks located on or next to piers were also re-examined to ensure that no similar problems existed, and all were found to be safe."