N-Dubz drummer Fagan guilty of sex charge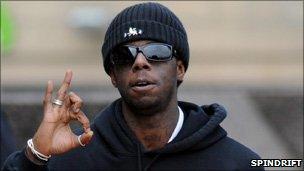 The drummer of award-winning band N-Dubz has been found guilty of sexually assaulting two women in Glasgow.
Aaron Fagan, 25, groped the women at Strathclyde University students' union in John Street on 1 October last year.
Speaking following the verdict at Glasgow Sheriff Court, Fagan said he had been "convicted with no facts" by "a white jury".
Fagan was convicted by Sheriff Joanna Johnston and not a jury. Sentence was deferred until next month.
He was also placed on the sex offenders register.
The court heard that N-Dubz were performing at the students' union after the Mobo awards, which were held in Glasgow the same night.
One of his victims, aged 20, claimed that Fagan approached her after the concert and asked if she wanted to go to an after-party.
She said: "He then put his arms over our shoulders and started leading us up the stairway.
"As we were climbing the stairs he took his hand away from my neck and put it on my bottom and started grabbing at it.
"We carried on climbing the stairs and he hit my friend on the bum too.
"He then moved round behind me and, with both arms reaching round from behind, started to grab my breasts.
"I took both his hands off me and told him not to touch me."
Prosecutor Keith O'Mahoney asked the student if Fagan was saying anything as he did it.
She replied: "Yes he was saying that he was going to take us back to his hotel and also said that he was having me tonight.
"He said I was a very dirty girl and asked if I knew what he meant by that."
The girls, who cannot be named for legal reasons, told the court that a short time later they told Fagan that they were not going to the after-party and left.
They then told a bouncer what had happened to them and the police were called.
Fagan was arrested at the union just hours after he and bandmates Dappy, Fazer and Tulisa picked up awards for best album and best UK act at the Mobo awards.
The drummer also gave evidence at the trial and told the court that he is like "honey to a swarm of bees" when it comes to female fans.
He claimed that he had been touring all over Europe for years and would not have suddenly done something like this in Glasgow, which was "hardly a haven for models".
He also told the court that the girls made up the claims after being knocked back from the band's party.
However, Sheriff Joanna Johnston told Fagan: "I do not accept your account of events and I consider that you said what you did to try to avoid responsibility for your actions."
Fagan shouted "this wasn't justice today" as he left the dock.
Speaking outside the court, he said: "I'm a black man and I have been tried by a white jury. It's pretty clear what happened in that court and it's the opposite of justice.
"I've been convicted with no evidence, no CCTV or anything."
When asked if he felt he had been racially discriminated against, he replied: "Yeah, of course, it's that along with my profile that got me found guilty.
"Tell me how many people could have been convicted for squeezing a girl's arse, nearly every guy could be up for that."
Related Internet Links
The BBC is not responsible for the content of external sites.