Delight after missing vulture found safe and well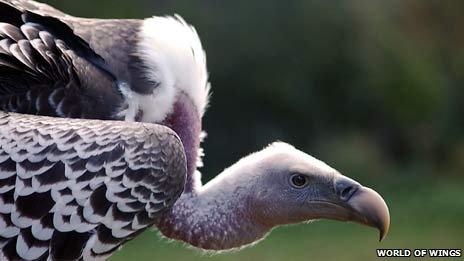 A missing vulture whose disappearance prompted warnings to aircraft entering Scottish airspace has been returned to her home.
Gandalf, a Ruppell's Griffon Vulture, native to Africa, vanished from World of Wings in Cumbernauld last week.
The seven-year-old female, which has a 10.5ft wingspan and can soar up to 37,000ft, was taking part in a display when she flew off.
She was retrieved after being spotted at a disused brickworks near Falkirk.
Her four-day disappearance saw warnings issued to National Air Traffic Services because of the possible damage she could do if she collided with an aircraft.
World of Wings director David Ritchie said Gandolph had lost weight and appeared not to have slept, but was otherwise unhurt by her adventures.
Mr Ritchie said: "I got a phone call from a member of the public, who works as a vet.
"She said she had spent time in Africa and was 99% certain she was looking at a Ruppell's Griffon vulture.
"It could only be Gandalf."
The vet described how the raptor was perched on a telegraph pole at the old brickworks at Easter Jawcraig, two miles north of Slamannan.
Mr Ritchie said: "We went out and there she was.
"I think she's been hiding there.
"I ran in to a field opposite and threw her a dead chick to eat. She was obviously hungry and came down for it.
"We wrapped her in a big duvet and got her back to our van.
"I checked her for obvious damage, but she's in an ok condition."
He added: "The first thing she did was jump in to her bath. She's also ravenously hungry.
"A vet is due to give her a thorough check, but we're just delighted to have her back home.
"It's a terrific ending for us."
Gandolph has been the star at the World of Wings centre since 2006, when she was brought from the Sahel region of central Africa as part of a breeding programme.
Related Internet Links
The BBC is not responsible for the content of external sites.