Games legacy sports hub launched in East Kilbride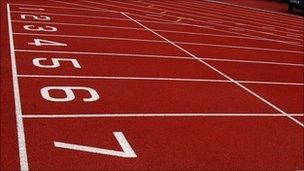 One of the first 'community sport hubs' to be developed in Scotland has been launched in East Kilbride.
The hub will offer local sports clubs access to Calderglen High School's facilities, which include pitches, a games hall and three gym halls.
It is one of an initial eight hubs to be developed across Scotland as part of a 2014 Commonwealth Games legacy plan.
Sportscotland eventually aims to have a hub in each local authority area and is investing £1.5m annually until 2015.
Hubs are to be based in local facilities such as sport centres or schools, and are to link to existing networks including Active Schools and Regional Sporting Partnerships.
Local clubs, including football, athletics, dance, trampolining and gymnastics, are to be offered easier access to facilities.
Volunteers will be encouraged to lead the development of local sport and physical activity in the area.
Sportscotland chairwoman Louise Martin CBE said hubs would provide the framework for sustainable, community-led sport in Scotland.
She said: "This is just one example of what a hub can look like, and already we can see that by bringing people together, it will bring huge benefits to sport in the local community.
"We are embarking on a long journey to develop community sport hubs in every local authority in Scotland."
Shona Robison, minister for public health and sport, said: "Having the right sports facilities available in the right places is a critical part of delivering the Scottish government's ambitions to get Scotland active.
"With Glasgow 2014 on the horizon everyone can be inspired by the spirit and excitement of the games.
"We want Scots of all ages, backgrounds, shapes and sizes to get more active and get more out of life, which in turn will deliver a lasting legacy that Scotland can be truly proud of."
Sportscotland is currently working with eight local authority partners: South Lanarkshire, Edinburgh, Perth & Kinross, East Lothian, Orkney, North Lanarkshire, Glasgow and Highland.
Related Internet Links
The BBC is not responsible for the content of external sites.