Susan Boyle 'honoured and humbled' to sing for Pope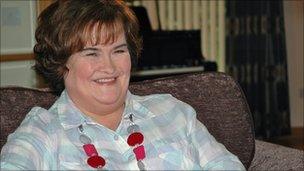 Scottish singer Susan Boyle said she was "humbled and honoured" to be asked to perform at the Pope's open-air Mass in Glasgow.
The Britain's Got Talent finalist will sing three times at the Bellahouston Park event next month.
Boyle, from Blackburn, West Lothian, will perform her signature tune "I dreamed a dream" as well as hymns.
Pope Benedict XVI will embark on a four-day state visit to the UK, starting in Scotland on 16 September.
Roman Catholic Boyle will join an 800-strong choir which will lead the singing at the special Mass starting at 1715 BST.
She will also perform to the tens of thousands of worshippers who are expected to attend the celebration.
The 49-year-old's final piece will be a farewell song to the Pope as he leaves the park and flies to London to continue his visit.
Speaking from her home, Boyle said: "To be able to sing for the Pope is a great honour and something I've always dreamed of - it's indescribable.
"I think the 16th of September will stand out in my memory as something I've always wanted to do, I've always wanted to sing for his Holiness and I can't really put into words my happiness, that this wish has come true at last."
The international sensation, who was made famous through the ITV talent show, was approached by Cardinal Keith O'Brien to take part in the Pope's visit.
Boyle added: "My family will be there on the day on what will be a very special day for all of us and I hope they will be proud of me."
On the importance of her faith, she said: "The Pope's visit is a very big event for Scottish Catholics. My own faith is the backbone of my life, I pray and say the rosary each day and am very close to my religion.
"I am humbled and honoured by this invitation and I hope I can do my best."
Cardinal O'Brien said he was delighted Boyle had agreed to perform for the Pope.
"I think it is wonderful that she will have this once in a lifetime opportunity and as her bishop I am hugely proud of her," he added.
Related Internet Links
The BBC is not responsible for the content of external sites.