Former officer loses drugs appeal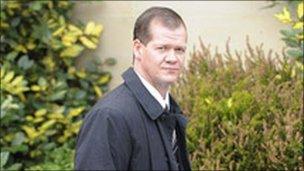 A disgraced former police officer who was involved in a nine-strong drugs supply gang has lost a legal bid to have his sentence cut.
Michael Norden, 37, from Glasgow, was jailed in 2008 for his role in the illegal supply of amphetamine.
At the Court of Criminal Appeal in Edinburgh he claimed the eight-year term imposed was excessive.
This was rejected on the grounds that he was "at a relatively high level" in the supply operation.
Norden was part of a gang sentenced to a total of nearly 50 years after police uncovered their amphetamine distribution network.
The dismissed former Strathclyde Police officer was convicted of being concerned in the supply of the Class B drug between March and October 2007.
Norden and a co-accused James Miller, 52, from Renfrew, were monitored as part of a surveillance operation during meetings at the Hillington industrial estate on the outskirts of Glasgow.
At one meeting Norden was seen to hand over a bag which was later found to contain £25,000.
More than 30 kilos of amphetamine along with a large amount of bulking agent were seized by police during the course of the operation.
Miller was also sentenced to eight years imprisonment after the trial judge, Lady Dorrian, told them they were "higher up the chain" than their co-accused.
But defence counsel Ronald Watson QC argued that the judge had erred in treating the two men in the same way.
He told the appeal judges that Miller was far more heavily involved than Norden, who was "subordinate" to him.
But Lord Clarke, who heard the appeal with Lord Mackay, said they were satisfied that Norden clearly was involved "at a relatively high level" in the organisation of a very large drugs operation.
The senior judge said they were not satisfied that it could be said that the sentence imposed on him was excessive.
Lord Clarke added: "His involvement, in our view, was compounded by the fact that he had experience as a police officer in his previous life."
The appeal judges heard that Norden had been subjected to assault while being held in the prison system.
Related Internet Links
The BBC is not responsible for the content of external sites.