Man jailed over row 'slap death'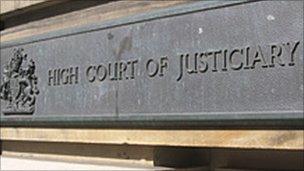 A former Lithuanian soldier who killed his landlady by slapping her on the face during a row has been jailed for two years and four months.
Jonas Norkus, 43, struck 48-year-old Vitalija Nemniaseviene twice during a confrontation at the Glasgow flat where they lived in October last year.
Norkus told police he thought Ms Nemniaseviene, a fellow Lithuanian, was behind a previous attack on him.
He was initially accused of murder but pleaded guilty to culpable homicide.
The High Court in Edinburgh heard how Norkus came to the UK around May last year and had been working as a part-time cleaner at Glasgow's Buchanan Street bus station.
At the time of the incident, he was a lodger with Ms Nemniaseviene at a flat in the city's Pinkston Drive.
The court was told that on 24 October last year, Norkus was attacked by two men.
He asked Ms Nemniaseviene about the incident and took the view that she was happy he had been beaten up.
During the confrontation, he forcibly slapped her twice on the face with his open palm and left the flat for England after the row.
He later told police that the unexpected assault on him had caused him to fear for his safety and he suspected that his landlady may have had some responsibility for it.
Ms Nemniaseviene's body was discovered at the flat on 14 November after police were told of concerns that she could not be contacted.
A post-mortem examination found she had head injuries which caused her death.
A forensic pathologist found the injuries were consistent with Ms Nemniaseviene having been slapped and then falling and striking the back of her head.
There was no evidence to suggest a lot of force was used, it was found.
Judge Lady Dorrian looked at the possibility of sparing Norkus a prison term, in light of the circumstances of the case.
But she decided to jail him while "giving full weight" to the mitigating factors involved.
The judge told Norkus: "I have explored the issue of whether there might be an alternative to custody in this case.
"In the event, however, I am not satisfied that you have been able to demonstrate the degree of stability in your background or the support systems necessary to make such a step appropriate."
The sentence was backdated to December of last year.
Related Internet Links
The BBC is not responsible for the content of external sites.