Gang jailed for £3m cannabis haul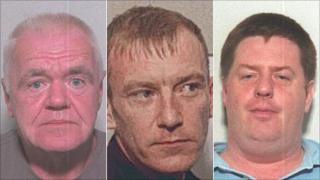 Four men involved in one of Scotland's biggest illegal drug operations have been jailed.
John McHugh, 54; Joseph Boland, 54; Martin Gray, 41; and Garry Ralph, 38, all admitted being involved in the supply of cannabis resin.
Police welcomed their prison terms, which ranged from three years and three months to five years and three months.
The High Court in Glasgow heard they were caught following a surveillance operation in Paisley in July 2009.
Officers recovered cannabis resin with a street value of nearly £3m.
The Scottish Crime and Drug Enforcement Agency (SCDEA) said it suspected the gang, headed by John McHugh, imported the drugs from mainland Europe for onward supply in Scotland.
During an intensive surveillance operation on 24 July last year, officers watched as drugs, wrapped in 34 individual bales, were delivered by van to a printers at an industrial estate in Scotts Road, Paisley.
McHugh and Boland, both from Busby, were seen unloading the van, which inquiries later revealed was associated with a company run by McHugh.
When McHugh and Boland were arrested at the industrial unit, they were found with just under 800kg of cannabis resin, valued at £2.4m.
Gray, from Ardrossan, and Ralph, from Glasgow, were both arrested after being seen taking possession of the drugs.
The operation led to the seizure of more than one tonne (1,023 kg) of cannabis resin - made up of 4,092 resin bars - with a street value of nearly £3m.
It was the largest single drugs seizure by the SCDEA during 2009/10.
Following their guilty pleas, McHugh was jailed for five years and three months, while Boland was sentenced to three years and seven months.
Gray was jailed for three years and three months, while Ralph was sentenced to three years and seven months.
Speaking after the sentences, Det Ch Supt Allan Moffat, head of the investigation at SCDEA, said: "These criminals are now where they belong - firmly behind bars serving much-deserved jail terms.
"These men intended to supply significant amounts of cannabis to our communities, where cannabis remains to be the most widely misused controlled drug.
"The successful outcome of this investigation means that we have disrupted the activities of this gang and we have prevented their harmful drugs from ever reaching the streets."