Scot biker dies during Manx race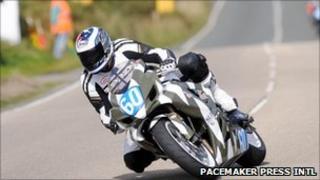 A 28-year-old Scottish motorcyclist was one of two riders who died after a crash in the Isle of Man grand prix.
Jamie Adam, from Prestwick in Ayrshire, was involved in a crash during the second lap of the Junior Manx Grand Prix at about 1100 BST.
Emergency services attended but the serving officer in the Royal Navy was pronounced dead at the scene.
Traffic police officer Chris Bradshaw, 39, from Staffordshire, was taken to hospital but died from his injuries.
A joint statement issued by Isle of Man Constabulary and the Manx Motorcycle Club said: "Both riders were involved in a racing accident at Alpine Cottage on the second lap of the Junior race shortly before 11am.
"The race was later abandoned."
The statement added: "Chris first competed on the Isle of Man in 2004 and finished 37th in last year's Senior MGP race.
"James first competed on the Isle of Man in 2009, finishing 9th in the Newcomers race and 27th in the Senior MGP.
"The next of kin of both families have been informed. The Manx Motorcycle Club extends their deepest sympathy to the family and friends of both men."
"The incident is now being investigated by the Isle of Man Constabulary, who are preparing a report for the coroner."
No spectators were injured in the crash, police said.