Lawyer firing rapist loses appeal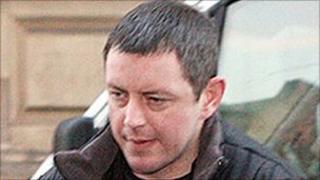 A rapist who fired his defence lawyers 14 times has finally lost his appeal against conviction.
John Munro, 37, was jailed for eight years and given a lifelong restriction order for raping and strangling an 18-year-old girl in Barrhead in 2007.
At the Court of Criminal Appeal his latest QC argued the guilty verdict should be overturned due to a lack of corroboration of the victim's evidence.
Appeal judges rejected this but said Munro could still appeal his sentence.
During his original trial, the court heard how how Munro's teenage victim was looking for a taxi when he approached her.
He grabbed her by the neck, claimed he had a gun and pulled her down a narrow lane.
Evidence claim
Munro then strangled the girl until she passed out and raped her.
He had claimed the girl had been a willing partner but the jury rejected his story.
But because Munro kept dismissing his legal team it took a dozen court appearances and more than 14 months before sentence could be passed.
Munro, previously of Glenburn, Paisley, then lodged an appeal, claiming there was not enough evidence for a jury to find him guilty of rape. He also claims his sentence was too severe.
When the appeal got under way the routine of sacking lawyers began again.
Judges finally lost patience at a hearing in July and warned Munro that his case would be dealt with, with or without a lawyer to speak for him.
At the Court of Criminal Appeal in Edinburgh on Friday, Gordon Jackson QC argued that the jury's guilty verdict should be overturned because there was no corroboration for the teenager's account of Munro having full sex with her.
But during a brief hearing about evidence of DNA found on the girl's clothes, advocate depute Iain McSporran told the judges: "Your lordships can be satisfied that the scientific evidence amply supports the evidence of (Munro's victim)."
Lord Carloway, sitting with Lords Bonomy and Malcolm, threw out Munro's appeal against conviction, but allowed him to return to court at a later date to contest his sentence.