Police return to Maryhill attempted murder scene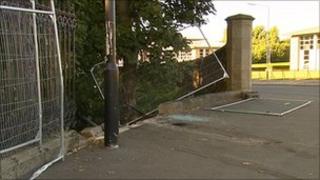 Police investigating a brutal attack by a gang of men in Glasgow are returning to the scene in an effort to trace potential witnesses.
Bryan Hanlon, 26, was left with serious head and groin injuries following the attempted murder at Maryhill Road on Sunday 29 August.
Strathclyde Police want to speak to drivers in the area and passers-by.
The force said information received from members of the public would be treated in "strictest confidence".
Officers are returning to the scene, outside Kelvin Campus, at 2300 BST - about the time of last week's assault.
'High speed'
Det Supt Alan Buchanan said: "As part of the ongoing investigation we will be back at the scene one week on, to interview drivers and passers-by.
"I am appealing to anyone who was in the area at the time of the attack to come forward.
"I understand that some members of the public may be nervous about contacting us, but I can assure them that any information we receive will be treated in strict confidence.
"As a result of our investigation, I am now looking for information on a Silver BMW 5 Series and a black or dark-coloured Range Rover, both of which were seen driving at high speed on Maryhill Road around the time of the attack."
Mr Hanlon was making his way along Maryhill Road when his silver Audi S4 was forced off the road and hit a wall.
Armed men then got out of the vehicles and attacked him.
Police would not comment on reports a chisel was also used in the assault.
The victim is being treated in the Southern General Hospital for serious head injuries.
Hospital staff described his condition as critical.
DS Buchanan added: "I would appeal to anyone who witnessed this incident, or has any information that may assist police enquiries, to contact Maryhill Police Office."