Glasgow tyre store fire brought under control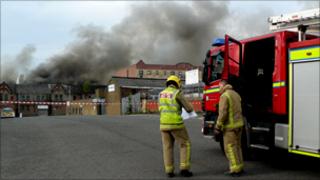 A major fire at a tyre storage centre on Glasgow's south side has been brought under control.
Fire crews are still at the scene of the blaze, a lock-up on Fairly Street near Ibrox.
Several streets remain closed off, including Copeland Road, Ibrox Terrace and Whitefield Road at Brand Street.
Some residents are still out of their homes and no children have been allowed to use the playground of Ibrox Primary School as a precaution.
A spokeswoman for Strathclyde Police said it was expected that people would be allowed to return to their homes by 1600 BST.
At its height, just after 0800 BST, more than 60 firefighters were tackling the blaze.
Ibrox underground station was closed for a time but has now re-opened.
About 30 people were evacuated from several properties in Fairley Street and were taken to the Ibrox Library and Learning Centre.
Kenny Brown, a 54-year-old accountant with the firm Harsco on Copland Road, said: "We were asked to leave at around 8.45am. I could smell the smoke in the building.
"There were gas canister explosions. There were windows blown in on some of the flats.
"The first bang we heard we thought 'what was that?'. We were told it was a gas canister, so that was quite scary.
"One person said they could see the smoke as far away as Prestwick in Ayrshire."