Slasher jailed after going on the run for three years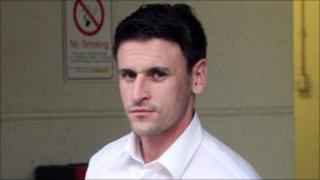 A man who admitted slashing a soldier and his friend before going on the run overseas for three years has been jailed for six-and-a-half years.
Ross Craig wounded Robert Picken and Craig McLean, both 27, as they tried to hail a taxi in Glasgow in October 2006.
The 28-year-old had been on bail when he attacked the men. He was again freed on bail after his arrest but failed to turn up for a court appearance in 2007.
Craig, from Glasgow, was arrested on his return from Cyprus in March.
His defence counsel Paul McBride QC said: "He left to go to Cyprus but I don't think he falls into the Asil Nadir category. He was working in a bar."
At an earlier court appearance this year Craig admitted assaulting Mr Picken and Mr McLean to their severe injury and permanent disfigurement.
He also pled guilty to failing to appear at court in 2007 having been granted bail.
The offences were committed after he was granted bail on four occasions - at Glasgow Sheriff Court in August and September 2006, and twice at the city's district court in August that year.
At the High Court in Edinburgh, judge Lord Bannatyne told Craig: "Both of these are in my view unprovoked attacks on two individuals who happened to be in the city centre at this particular time.
"Both of the assaults involved the use of a deadly weapon, namely a knife."
"The assaults have significantly impacted on the lives of both victims."
The judge jailed him for six years for the knife attacks and a further six months for failing to appear. He also ordered that he should be kept under supervision for a further two years.
'Deeply remorseful'
The court heard that Mr Picken, who was a serving soldier at the time, and Mr McLean, had been socialising with friends in the city centre before the attacks.
They were trying to find taxis to take them home and were making their way along Pitt Street and came across an injured man who was bleeding from a head wound.
They thought Craig and another man who had passed them may have been responsible and remonstrated with them.
Craig got into a scuffle with Mr McLean and stabbed him twice on the back and thigh and slashed his face.
Mr Picken tried to help his friend and was also slashed and wounded in the chest. Craig was detained when police arrived on the scene and a seven-inch knife was found nearby.
Mr McBride said Craig did not appear to be a man of violence before or since the knife attacks and claimed he was "deeply remorseful".