Early opening for M74 extension through Glasgow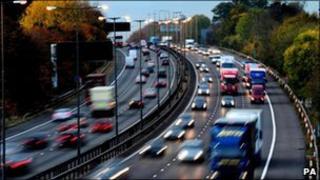 The M74 extension in Glasgow will be open next June - almost nine months ahead of schedule.
The £657m project will link the end of the existing M74 at Fullarton Road, near Carmyle, with the M8 southwest of the Kingston Bridge.
Contractor, Interlink M74, originally aimed to complete the motorway by August 2011 - six months ahead of the contractual deadline of February 2012.
Work on the five-mile extension began in 2008.
The cost of the project is being met by the Scottish government through Transport Scotland and Glasgow, South Lanarkshire and Renfrewshire councils.
Work is being carried out by Interlink M74, a joint venture comprising Balfour Beatty, Morgan Est, Morrison Construction and Sir Robert McAlpine.
'Enormous potential'
Finance Secretary John Swinney said the early opening time would help boost the Scottish economy.
"The M74 completion is the biggest infrastructure project on the ground in Scotland and is providing vital jobs and investment for the hard-pressed construction industry now," he said.
"When it opens next June, the new route will provide improved access to economic, employment and education opportunities for the people of Scotland.
"It will also bring enormous potential for further urban regeneration programmes in the west of Scotland, many of which are already in development."