Man in court over Glasgow flat siege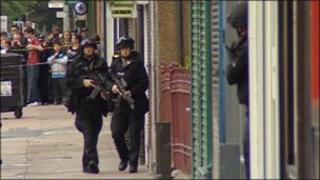 A 22-year-old man has appeared in court in connection with an eight-hour police siege in Glasgow.
John McDermott is alleged to have barricaded himself into his home at Dumbarton Road on Friday.
He is charged with assaulting police officers by throwing grenades at them and with assaulting his wife Jillian McDermott during a domestic incident.
Mr McDermott made no plea or declaration at Glasgow Sheriff Court and was remanded in custody.
An earlier decision to release him on bail was challenged by the Crown.
He is due to remain in custody until an appeal hearing is held.
Road closed
Mr McDermott is also accused of two counts of breaching the peace for holding a knife to his own throat and throwing things from his second-floor flat window.
He also faces prosecution for an offence under the Children and Young Persons (Scotland) Act, which alleges he did all of this while he was supposed to be looking after a child.
Dumbarton Road was closed for more than eight hours during the stand-off which also resulted in some residents being confined to their homes.
About 30 nearby businesses were also prevented from opening.