East Kilbride dairy firm gives profits warning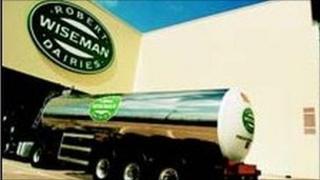 Shares in Scotland's largest fresh milk producer plunged as Robert Wiseman Dairies warned profits could suffer over the next 18 months.
In a statement, the East Kilbride-based firm said profits would be impacted by "intense competitive pressures".
Wiseman said anticipated volumes for this financial year remained unchanged.
But it added operating profits could be impacted by about £7m in the second half of the year and by about £16m in the financial year to March 2012.
The firm blamed "recent intense competitive pressures across all sectors of the market".
Shares in the company fell steeply on the announcement, at one point falling by more than 25% on Thursday morning.
In a trading statement, Wiseman said: "The reduction in anticipated profit is very disappointing, but we believe we are best placed within the dairy industry to manage the impact of a highly competitive trading environment going forward.
"We recognise the importance of continuing to seek to improve efficiencies across our operations and eliminate costs where possible, with a view to rebuilding future margins to a more acceptable level."
Price fixing
The company also said its financial performance continued to be impacted by volatility in oil-related costs. While fuel costs had eased, the cost of plastic had not declined by the same level.
Wiseman said plans to install the final element of capacity at its new Bridgwater dairy in Somerset were "progressing satisfactorily", and the dairy would have a total capacity of 500m litres per year available from November 2010.
The firm added it would have a dairy and depot network in place to allow a medium-term target of 2bn litres of sales to be met.
In May, Wiseman announced full-year pre-tax profits were up 60% to a record £49.2m. The firm said then its results had been boosted by a rise in cream prices and a £1.9m cut in a fine from the Office of Fair Trading (OFT), following an investigation into price fixing.