Man guilty of Christmas Day murder in Glasgow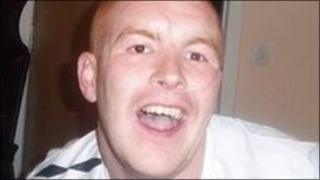 A 27-year-old man has been convicted of murder over a fatal stabbing in Glasgow on Christmas Day.
Edward Dearie stabbed Stuart Spence in the stomach during the attack in the city's Dalmarnock area.
He was also found guilty of trying to kill the victim's friend, Derek Hall, and of attempting to flee justice.
Dearie was identified through his distinctive black T-shirt with silver writing, which was a Christmas present. He will be sentenced next month.
The High Court in Glasgow heard how how Mr Spence died in hospital after suffering massive internal bleeding.
As he lay bleeding in the street he told how he had been stabbed by the man with "the black T-shirt with silver writing".
This referred to the T-shirt Dearie had been given as a gift for Christmas.