Man who killed brother in Paisley crash avoids jail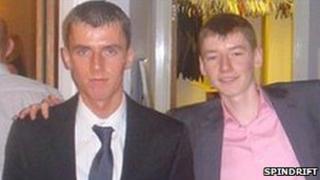 A man who killed his brother in a car crash has been sentenced to 250 hours community service for careless driving.
Shaun Convery, 23, from Glasgow, had been speeding through Paisley in August 2009 when he lost control of his sports car and crashed into another vehicle.
His 17-year-old brother, Jamie, was in the passenger seat and died at the scene.
Delivering sentence, Lord Turnbull said Convery would have been jailed had it not been for his early guilty plea.
The crash happened on the A726 in Paisley's Hurlet Road on 1 August 2009. It emerged in court that Convery had driven the Toyota MR2 for the first time that day.
He lost control of the car on a bend before colliding with the Mercedes, which was being driven by 59-year-old Cheung Shek.
'Entirely innocent'
The impact of the crash split the Toyota in two. Jamie Convery, who had been in the passenger seat, was spotted lying with his legs out of the car.
Convery was treated for minor hand injuries while Mr Shek in the Mercedes suffered a leg bone fracture and a broken chest bone.
The court was told that Convery had become withdrawn since the incident.
Allan MacLeod, defending, said: "Clearly he has been deeply affected since the commission of this offence.
"He struggles to come to terms with his brother's death. He did attend some bereavement counselling and found that to be beneficial, but he's still clearly devastated by what happened."
Passing sentence, Lord Turnbull said Convery had not intended to cause any harm but it was "obvious" he had driven at excessive speeds for the road conditions.
He also noted Convery's "real grief and remorse", and the fact that it was his brother who died, and said he could impose a "different kind of sentence" to a jail term.
The judge said: "Drivers of motor vehicles must take responsibility for the way in which they are driving.
"When motor vehicles are driven dangerously or carelessly and death occurs, it's very often other and entirely innocent individuals who pay with their lives for the irresponsible conduct of the car driver."