Knife man jailed for killing Airdrie mother-of-four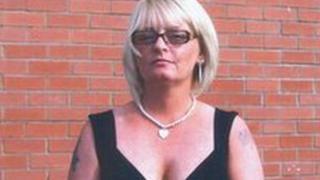 A man has been jailed for life for the murder of a mother-of-four outside her Lanarkshire home.
John Jenkins, 30, stabbed 41-year-old Jeannie Smith after she left her home in Airdrie, believing her son was involved in a disturbance in the street.
Judge John Beckett QC ordered him to serve at least 20 years in prison for the killing.
He was convicted following a three-week trial at the High Court in Glasgow.
The court heard how Mrs Smith was stabbed on 31 October last year in her driveway.
She had left her home after believing her son Steven had been caught up in trouble near the family home in the town's Oronsay Road.
Seconds after leaving her house with her husband, Mrs Smith turned to him and said "I've been stabbed".
The mother-of-four fell to the ground before being helped back inside.
She was taken to Monklands District Hospital, but died having been knifed in the heart.
Father-of-three Jenkins had denied the charges or being armed with a blade.
However, he was convicted of murder and charges related to mobbing, rioting and assault.
During the sentencing hearing, it was revealed that Jenkins had a lengthy criminal past, including a conviction for possessing a knife.
Family devastated
It also emerged he was awaiting sentencing for an unrelated assault when he killed Mrs Smith.
Judge Beckett QC described Jenkins as being at the centre of an "outrageous rampage of public disorder" on the day Mrs Smith died.
He said: "You stabbed a woman in the heart, a woman who was doing nothing to harm you."
The judge added Mrs Smith had gone out that day looking to "protect" her husband and others who were not armed.
The court was told Mrs Smith's family have been left "devastated, depressed and lost" at her death.