Jail term for 'blood-syringe' robber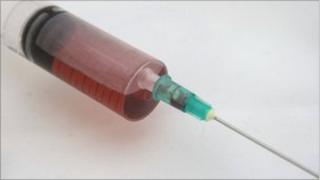 A man who admitted spraying blood in the face of a Paisley shopkeeper has been jailed for 44 months.
Anil Parkash was attempting to stop Craig Spence, 33, from getting to his till when he was threatened with a syringe.
The High Court in Edinburgh heard that Spence squirted a blood-filled syringe which hit Mr Parkash in the face and chest before fleeing with an accomplice and the cash register.
The offence took place on 15 June.
The court heard that police brought in a helicopter to help search for the men - but it was a trail of blood which led to Spence's capture.
'Blood stains'
Advocate depute Jane Farquharson, said two officers on foot patrol saw that the glass door of a building near the shop in Clarence Street, Paisley, had been smashed and there were coins and blood-stains on the ground.
She said: "The trail of blood led police through the common close door and out into the rear yard, over the wall of the rear garden into a communal bin store."
Police found the smashed-up till and the syringe.
Soon afterwards they also discovered blood-stained Spence, who had cut his arm during the robbery.
In court he pleaded guilty to assaulting and robbing Mr Parkash at the licensed grocer's shop on 15 June this year.
The court heard how Spence went into Parkash Newsagents and took a bottle of Buckfast - without paying - then stood outside for half an hour.
Spence then came back into the shop, claiming his friend would pay for the drink.
But the unidentified male rummaged in his pockets then declared he did not have any money.
Spence then tried to jump onto the counter, shouting: "Give me your till" but Mr Parkash pushed him back.
Jailing Spence, Judge Lord Matthews said the courts had to do what they could to protect people who work in shops.
Lord Matthews said: "You didn't produce a firearm as is sometimes the case but a syringe with blood in it has its own implications."
Solicitor advocate John Carroll, defending, said although Spence had a record for minor offences of violence, this robbery was out of character.
The court heard that Spence had been drunk at the time.